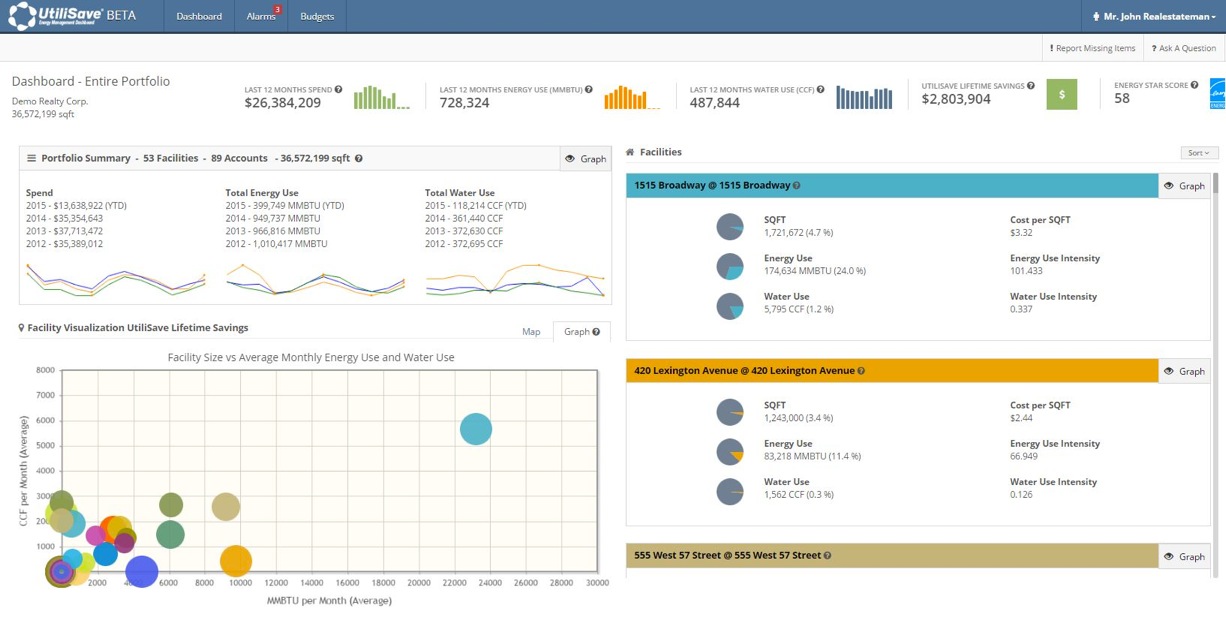 The UMI Dashboard gives you broad access to your utility data and concisely illustrates the important data that users seek.
Data display can show usage data in 15-minute intervals – providing you with granular information.
The UseAudit™ feature can isolate incidences of energy inefficiencies.
Alarms allow you to set alerts by usage or cost among your accounts, aggregate accounts, or by building or facility (multiple buildings) so you stay on top of your consumption or cost.
You can set Budgets by account, building, complex, or utility type – in any order – and have UMI track the results.
Utility Management Interface (UMI) is a utility data informational platform designed to provide users with the ability to review and track their comprehensive utility data sets at any scale they desire – it can be as granular as a specific account or as global as the whole portfolio. In addition to tracking all of this data, UMI facilitates pinpointing inefficient usage as well.
UMI is provided free of charge to UtiliSave's clients, and it allows for a user-friendly and easy to understand platform to review and monitor utility data. UtiliSave has eliminated the leg work of collecting and updating the data on a continuous basis, and provides the analytics you seek as an informed energy minded manager.
UMI also functions as a customizable tool that can be deployed by energy efficiency providers, ESCOs and utility companies to engage their customers. UMI provides the capabilities to monitor a building's specific utility data for a better handle on their energy use and empowers users to manage their consumption more efficiently.
UMI contains budgeting features which track the actual usage versus budget as the monthly data is uploaded, and granular alarm capabilities that allow the user to monitor an account, a series of accounts, a building or a portfolio.
The development continues with planned feature enhancements and additions based on granular benchmarking, more detailed analytics, and future cost predictions. UtiliSave's further development of UMI allows clients to stay ahead of the curve with meaningful tools to improve their utility management.
Monitoring and Maximizing Energy Efficiency with UMI